Welcome to...
Aaah eShop... a famosa lojinha virtual da Nintendo, com sua musiquinha de elevador e seus icons de Photoshop... não pera...
O que é?
Se você é novo nos consoles da Nintendo você pode não conhecer, mas
eShop
nada mais é que a loja virtual da Nintendo, assim como a
PS Store
é para a linha de consoles Playstation e a
Steam
para os PCs.
Assim como suas concorrentes ela oferece a venda de jogos digitalmente, você podendo comprar e baixar sem sair de casa caso possua algum cartão de crédito correspondente, e até direito a backup gratuito do game inúmeras vezes caso haja necessidade e você não exclua a sua
NNID.*O que é um NNID?
NNID é a sigla de
Nintendo Network ID
, o serviço o qual você cria uma conta usando um e-mail válido para mais tarde poder não só usufruir da eShop como também de outros serviços da Nintendo como
Miiverse
e afins.
*Os NNIDs inicialmente vieram para substituir os Friend Codes, mas mesmo assim... o 3DS parece que não vai os abandonar tão cedo.
Cada aparelho da linha 
3DS
pode ter APENAS UM
NNID
anexado e caso ocorra alguma formatação, todos seus jogos podem ser perdidos pois outro precisará ser criado do zero. Já proprietários do
Wii U
podem ter várias, assim caso algum seja deletado ou banido, você poderá usar outro sem a necessidade da formatação do console e baixar todos jogos já comprados sem problema algum pelo mesmo console.
Mas também há um probleminha, os
NNID
s também possuem uma trava... que caso você já tenha registrado ele em outro console e comprado algo, mesmo que você o use em outro aparelho do mesmo produto, ele não vai te dar direito a todos Downloads novamente, e sim somente de serviços extras, como perfil no
Miiverse
e etc...

Em caso de futuros problemas, seja roubo ou defeito do aparelho é recomendado que entre em contato com a Nintendo para que possa recuperar seus Downloads.

Bem, Voltando ao assunto...
No
eShop
é aonde quase todo serviço online da Nintendo ocorre, vindo como uma versão melhorada do
DSi Ware
e
Wii Shop
, nele também se é possível avaliar títulos, resgatar jogos via códigos (algo também possível nos seus antecessores), credicar sua conta via cartões e poder ficar por dentro de Trailers de futuros lançamentos ou até eventos especiais em vídeo publicados diretamente pela Nintendo.
Até a criação do
eShop
para
3DS
, tanto o
DSi Ware
como o
Wii Shop
usavam um sistema monetário diferente e chamado como "DSi/Wii Points" o qual impedia o crédito direto em conta, sendo preciso sempre comprar cartões da mesma para poder ter "dinheiro" em seu console, algo similar a cartões de Cash de jogos MMO, simples... porém ultrapassado.
O
eShop
Brasileiro somente existe nos aparelhos portáteis da linha
3DS
, e desde o lançamento do
Wii U
nenhuma data foi confirmada com o lançamento da versão nacional para ele. Sendo algo relacionado a falta de autorização em bancos para liberações de cartões devido a complexidade e políticas exageradas em relação a games do país e aparentemente também pela falta de empenho da Nintendo of America para com ele.

O eShop atualiza seus produtos toda Quarta-feira ás 14:00hrs** pelo nosso fuso horário brasileiro.

**Isso pode variar dependendo das atualizações do serviço, mas é algo tão raro de ocorrer que pode ser desconsiderado a possibilidade do mesmo. 
--------------------------------------------------------------------------------------------
Usando:
Assim que você criar sua
NNID
, atualizar seu console/portátil e se conectar ao eShop, várias abas serão apresentadas, parte delas sendo correspondentes a determinado personagem e mudando toda semana, ou até outras que aparecem de vez em quando sobre promoções dos jogos de empresa X.
Mas algumas em especial são fixas, nomeadas como
Novos Lançamentos
,
Futuros
Lançamentos
,
Promoções
,
Demos
,
Virtual Console
,
Vídeos
e
Digital-Only
.
--------------------------------------------------------------------------------------------
=== Novos Lançamentos: ===
Ficou interessado em algum game e soube que ele lançou recentemente? Eis o local ideal para você.
Aqui você encontrará todos lançamentos da semana, considere que assim como jogos físicos eles vão estar todos com seu preço full de lançamento, é aconselhável que somente compre o que realmente esperou por meses aqui e passe longe caso seja para conhecer alguma série.
=== Futuros Lançamentos: ===
Aqui você poderá acompanhar o game que viu em tal conferencia e deseja saber quando ele virá, é uma aba bem pouco usada em vista que você pode conseguir todas informações dela pela Internet. Mas... é um bom local para você poder ver quais jogos estão listados e até os marcar em sua Lista de desejos para jamais esquecer.
=== Promoções: ===
A aba favorita de todos, conhecida por animar ou desanimar pessoas. Como todo mundo curte parar pouco ou um preço justo em jogos, muitos entram no eShop já vindo aqui. Nessa aba você conferir todos jogos que estão com preço reduzido sem precisar buscar individualmente, a maior parte dos jogos presentes nela são Indies e as vezes outras empresas ou a própria Nintendo colabora e deixa alguns jogos principais por ali também, para dar alegria para o povo.~
=== Demos: ===
Eis a aba mais usada do eShop, o local perfeito pra você poder ter uma prévia de tal jogo, ou até jogar por 30 vezes (ou menos) um pedaço daquele game que tanto quis e não possui dinheiro para tê-lo ainda.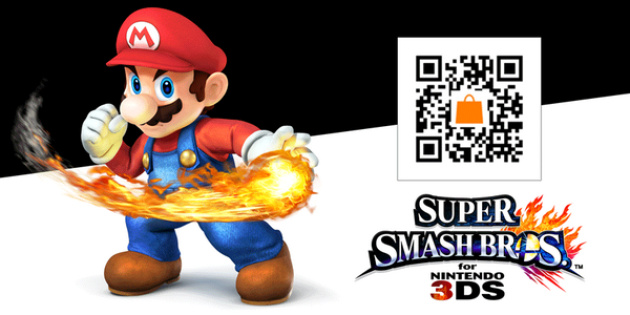 **Esse QR Code é válido, use no 3DS e poderá ir diretamente na page da Demo**~
Essa aba é perfeita tanto para quem tem o console há mais tempo, como mais ainda para quem acabou de comprá-lo. Conheça jogos por ela, verifique a qualidade dos quais pensou em ter ou até baixe alguns que nunca vá comprar só para passar o tempo.
=== Virtual Console: ===
Aqui sem dúvida é o local que mais se espera as coisas, quase todos possuidores de um console da Nintendo já jogaram ou desejaram ter algum game clássico da empresa. Nessa aba você pode realizar isso, vendendo títulos de NES, GB, GBC e Game Gear (3DS) ou NES, SNES, GBA e até DS* (Wii U), essa é a aba favorita de saudosistas, criando sempre o desejo de mais e mais jogos clássicos para ela.
Mesmo não sendo tão importante a ponto de causar compra de consoles, ela ainda é uma das mais queridas e a qual mais anima ou decepciona pessoas, pelo sua ótima qualidade nos ports e ao mesmo tempo lentidão exagerada para "lançamentos".
=== Vídeos: ===
Como o nome sugere, aqui você poderá ver vídeos da empresa e eventos. Perdeu alguma Gameshow, E3, trailer, teaser ou o vídeo que for da Nintendo? você poderá encontrar aqui!
Infelizmente é uma aba bem pouco usada, como todos sabem o Youtube é um site com serviço imbatível e nenhum outro conseguiria mais atenção para se assistir algo... nem Netflix...
Algo que é tão verdade, que a Nintendo em parceria lançou um aplicativo de ambos Youtube e Netflix para seus consoles, isso foi esperto não?
=== Digital-Only: ===
Well... aqui é o local "amodiado" do eShop, aquele que ou vai te obrigar a comprar algum game digital ou vai te deixar na vontade eterna de jogar algo e nunca lançar a versão física do mesmo.
Pois é, como o nome diz, aqui fica a aba dos jogos somente em mídia digital, se você desejar nunca usar o eShop ou jamais comprar algo por ele, você jamais terá algo daqui.
Mas pensando nisso, a Nintendo tenta promoções e edições especiais para promover e incentivar a compra, seja com os próprios jogos de Virtual Console já citados, como por jogos especiais como 3D Classics para o 3DS.
Então sem frescura... a qualidade do jogo será a mesma sendo em mídia física ou digital, mas compre com sabedoria!
---      O Conhecendo melhor as opções:      ---
Apesar das abas acima serem os motivos para o qual se usa o serviço, existem outras opções que podem ser vistas como mais importantes.
Hora de conhecer os menus que o eShop tem a oferecer:
=== Menu: ===
Segue as opções presentes no Menu, acessível no canto superior esquerdo da tela touch, ou até separadamente a esquerda dos ícones na tela.
=== News: ===
Er... eis o local de notificações, se você entrou e já não viu o que chegou de novo pelo app ou pela internet, poderá ver por aqui... se já viu, ela te deixa ver de novo, um amor não?!
=== Recent Arrivals: ===
Aqui você verá todos softwares e vídeos recentes, outra aba que ajudará muito caso você deseja saber tudo com antemão.
=== Charts: ===
Se você gosta de escolher algo novo com base a avaliações, essa opção lhe será importante. Aqui você poderá conferir pequenos "Rankings" separados por categorias (Recém lançados, todos e etc...) dos games do eShop, todas avaliações aqui feitas são de próprios jogadores e você poderá ter uma base de se tal jogo aparentou ser bom ou não.
Leve em conta que nem todo mundo dá sua opinião real, ou as vezes dará uma nota para zoar tal game... então é recomendado que não leve tudo daqui tão a sério.
=== Search: ===
Nome auto explicativo, pesquise o que deseja, para mais praticidade use a barra de pesquisa no canto superior direito da tela touch.
=== Wish List: ===
Confira tudo que você marcou para sua Lista de desejos, use com frequência essa opção, pois poderá te ajudar um dia a lembrar de jogos que ficou de comprar por ter se interessado faz tempo.
=== Rate Titles: ===
Aqui você poderá avaliar tudo que comprou, sejam seus jogos físicos ou digitais, após uma hora de Gameplay a opção de avaliação ficará disponível no eShop, avalie com sinceridade ou ignore caso não curta fazer isso.
=== Add Funds: ===
Local aonde você poderá adicionar créditos para sua conta, eles podem ser feitos tanto por cartões pré pagos do eShop de 20$, 35$ ou 50$ diretamente por códigos, ou com dinheiro real usando cartões de crédito da MasterCard ou Visa.
Algumas vezes também é criado edições especiais, ou até algumas com interatividade com aplicativos como o
Photo with Mario
do
3DS
, os quais além de adicionar fundos ao seu 
eShop
, te dão mais um AR Card para tua coleção!

Não é confirmado que todos cartões de ambos serviços venham sempre funcionar, ainda mais no eShop Brasileiro com toda a burocracia nacional... Mas, é sempre recomendado que use cartões internacionais aqui, quase sempre eles costumam dar certo. Em caso de desconfiança ou até falta de desejo de ter um, opte pelos cartões pré pagos que podem ser comprados em qualquer loja de games física ou virtual, mas leve em conta que eles terão seu valor sempre em dólares para o eShop Estadunidense ou Canadá.

---      Setting/Others:      ---
Hora de opções mais avançadas e de utilidade geral, aqui você poderá fazer e checar dados mais a fundo de sua conta, existem várias opções, mas... só citarei as mais importantes que realmente terão uso, para evitar que o tutorial fique maior do que já é.
=== Redeem Download Code: ===
Você é membro do Club Nintendo? Se sim, essa opção será usada ou já foi usada por você, aqui é o local para resgates de códigos da Nintendo, seja uma Demo do Pokémon Alpha Sapphire/Omega Ruby ou jogo de Virtual Console do Club Nintendo, aqui é aonde você vai digitar o código e fazer o Download imediato do produto.
Lembre-se que como todo código de resgate de produto, ele possui funcionalidade uma única vez e após usado ele será invalido para qualquer outro sistema.
=== Updates: ===
Essa é a área para Updates dos jogos que você possui, novamente o caso de físicos e digitais estão fora de questão e assim que usados pelo seu aparelho, você poderá conferir as atualizações deles por aqui e as baixar sem precisar de uma busca mais complexa.
=== Account Activity: ===
Aqui é aonde você poderá ver o histórico de sua conta, tudo que foi baixado gratuitamente ou comprado, não é algo super necessário de se ver, mas é ótimo para você saber de todos gastos que fez, data e etc... de tudo que já comprou ou somente baixou.
=== Redownloadable Software: ===
Eis a versão mais útil para seu "histórico de compras", aqui você poderá checar tudo que já baixou e é aonde poderá baixar novamente tudo de graça caso precise apagar algo, formate, ou até caia sua conexão durante algum download que você ativou por código.
Essa é sem dúvidas a parte mais útil das configurações, lembre-se sempre de vir aqui caso precise deletar algo para ter espaço para algum outro jogo ou demo.
=== Club Nintendo Account: ===
Aqui é aonde você vai anexar sua conta do Club Nintendo com seu portátil/console, o por que disso? Pelo simples motivo que TUDO que você comprar ou resgatar algum código de download no aparelho, será registrado automaticamente no site do CN, sem ser preciso de nenhum PIN ou Serial Code.
Se já anexou e ainda faça compras recentemente no eShop, nunca se esqueça de logar no CN pelo menos uma vez por semana para responder os questionários e ganhar suas Coins do site.
Caso não conheça o Club Nintendo, lhe recomendo
esse tópico
.
=== Review Credit-Card Information: ===
Se você usa cartão de crédito ou pretende, aqui será uma opção importante para você. Todas informações como número do cartão e até data de expiração dos créditos será anexada aqui, dados importantes que são bons e necessários para que se use uma vez ou outra para melhores informações.



Novos dados serão adicionados ao tópico em breve e novas atualizações em seu design ou texto podem chegar, aguardem e agradeço a atenção de todos!



Se sintam a vontade para comentar ou dar sugestões. o/
Última edição por Angel Kenede em Sab 28 Fev 2015, 12:47, editado 3 vez(es)